Subscribe to our blog to stay up-to-date.
---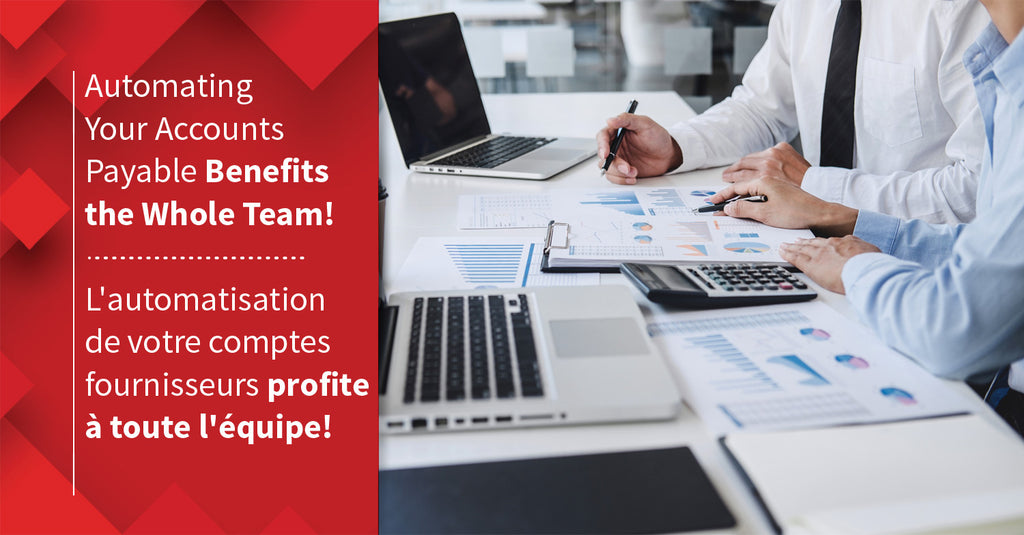 Talking With Your Team About Accounts Payable Automation
Thu May 18, 2023 | jean-francois roberge
---
Choosing to automate your accounts payable system is one of the best things that you can do for your team and for your business. It will not only free up time but also save your organization lots of money. It's an easy system to automate and can be implemented in a matter of days. 
What could take a while, however, is convincing different members of your team that automating is the best thing to do.
Change isn't easy for anyone, and it can be especially tough if your team is comfortable and used to their routine. Asking them to switch things up and embrace a new automated system is likely going to take some convincing. There will no doubt be initial push-back when you first introduce the idea of automation to your team, but this doesn't mean you should shy away from the conversation.
Each department is unique and can benefit greatly from accounts payable automation. For those looking to bring automation to their organization, it's important that you take the time to understand the needs of each team in your company and map out how automation will help them specifically. Knowing this will make it easier not only for you to bring accounts payable automation into your business but for your team members to better adapt.
If you're ready to have a discussion with your team about automation, you've come to the right place! We've put together this blogue to help you talk to your team about accounts payable automation.
Talking to Accounts Payable About Automation
For your accounts payable employees, automation can seem frightening. People instantly conjure up images of robots stealing their work in their minds. But in truth, automation can improve our day-to-day work and free us from mundane tasks. The accounts payable team stands to gain more than anyone else in your company, but it's important to understand and respect their concerns.
Common Concerns for Accounts Payable About Automation
"Won't accounts payable automation replace me?"
This is probably number one on your team's list of concerns. Automating your accounts payable system no doubt sounds like a way of replacing a whole team. This couldn't be further from the truth though!   
Accounts payable automated systems can integrate nicely with pre-existing systems and routines. Integration doesn't take long (a couple of days usually), and the accounts team can improve their efficiency while gaining more time for higher priority projects.
"Why would I want automation?"
There are countless reasons why the accounts department would benefit from accounts payable automation, including saving money to saving time. But when approaching the conversation, it's important to know the exact pain-points that automating would help relieve.
For example, your accounts payable team likely spends a fair amount of their time tracking down invoices, invoice approvals from different departments, and manually inputting data. Automation would help resolve this by having all invoices in one easy-to-use system on their computers. They would be able to access any invoices they need through the cloud. 
What's more, automation could automatically input the relevant numbers into data sheets and on invoices themselves, allowing your accounts team to focus on review rather than manual data entry.
Benefits of Automation for the Accounts Payable Team: 
Saves them time (No longer tracking down invoices)

Frees them up for more engaging work (No more manual data entry)

Allows them to work from anywhere (Files are located on the cloud instead of as hard copies)
Talking to the IT Team About Automation
The brunt of the work involved with introducing new systems to your company often falls on the shoulders of your IT team. It's up to them to install the new system, keep it updated, and ensure that it will meet compliances for your organization and security. They are also, however, one of the teams who will gain the most out of a new system.
Common Concerns for the IT Team About Automation
"Will the new system successfully integrate with the current one?"
Your IT team will likely first want to ask about how the new system will work with existing ones. There could be any number of concerns about security or about bogging down the system with a buggy new software. 
Luckily, accounts payable automated systems will integrate seamlessly with your current processes. Our team is able to work with your IT team to speak with them directly about these concerns and help them understand the ins and outs of the new system.
"How frequently will the system need to be updated/need IT intervention?"
A new automated system will perform better than your current outdated ones, which your IT team is probably spending a majority of their time fixing or updating. accounts payable automation is a cloud solution that will require less manual updates. Automatic updates can be set up to run during downtime and when the office is closed, saving your IT team lots of time.
The new system will also require less intervention. Outdated systems can become buggy and slow, demanding more attention from your IT team. They no doubt have to deal with an exorbitant amount of support tickets for older systems, which won't exist to such a degree with a new one.
Benefits of Automation for the IT Team:
Less support tickets (New system won't have as many faults or delays as outdated ones)

New systems are easier for other teams to use (Less time spent explaining processes)

Decreased need for human intervention (New system can automatically update, has fewer bugs/problems, and won't be as much of a security concern) 
Talking to Management/Company Leaders About Automation 
Once you've got the accounts payable and IT teams on your side, it's time to approach management as a group and present the idea. Management will play a huge role in influencing other departments in your organization and company leaders will have final say. It's important to understand that their resistances will have to do with potential time wasting and the costs of introducing a new system. There may also be concerns about how the new system will integrate with the current one and if there will be any delays on your current projects.
Common Concerns for Management/Company Leaders About Automation

"Won't this delay current projects?"
Time concerns are huge for management. They are often the official go-between for their company leaders, clients, and team members. It's up to management to ensure tasks are completed on time and delivered to the appropriate people without delay. Asking management to change up a whole system could sound like a monumental task that could take a long time. Be sure that you let management know that accounts payable automation takes very little time to implement. We estimate that a few days at most is all that's needed.  
"Could this hinder our team?"
Since management knows how each member of their team works best, they could be worried that the new system will throw a wrench in everyone's current workflows. In truth, automating your accounts payable system will improve efficiency and support each individual user better during their day-to-day work.
Since documents will now be located on a cloud system, everyone will have an easier time accessing and sharing important information. Accounts payable automated systems are easy to use and simple to navigate. Team members will be able to better support one another, improving morale and productivity.
There will also be increased visibility of invoice status, improving relationships with clients as managers can now give better time estimates on tasks.
"Won't this cost a lot of money?" 
Management has to consider the cost of implementing a new system. While they could be on board as far as the team's needs go, the budget might not allow for any upgrades. Or so they might believe! In truth, a new system will actually save your company a lot of money.
On average, processing times for an individual invoice could cost anywhere from $10 to $30. This eventually will add up to a lot of money. And that's if the invoice is processed correctly the first time around. Humans are prone to making errors, missing deadlines and costing business's more money in the long run. With our solutions, we can help you get to a point where the cost is less than $3 a bill.  
The cost of initially introducing an automated system to your team is therefore worth it in the end, as you will ultimately be saving money.
Benefits of Automation for Management/Company Leaders: 
Able to better accommodate team members (Cloud systems allow for more flexibility with remote work options. This is more difficult to do with physical invoices.)

Improved efficiency (Easy-to-use system that each employee can navigate without needing managerial intervention)

Better relationships with clients (No more estimating task completion time, as there is improved visibility with automated systems)
Set Your Team Up for Success with Accounts Payable Automation 
Now that you have some basic talking points to go over with your team, it's time to put your plan into action. Accounts payable automation serves to benefit each individual in your company, and there's no time like the present to bring up this important conversation! If you're looking for more information about automating workflows and the advantages it can have for your team, you can read our previous blog about the benefits or work automation here.
The team at XMA is also happy to answer any of your questions about automation, accounts payable automation, or how to approach this conversation with your team. Reach out today if you'd like to learn more!