Subscribe to our blog to stay up-to-date.
---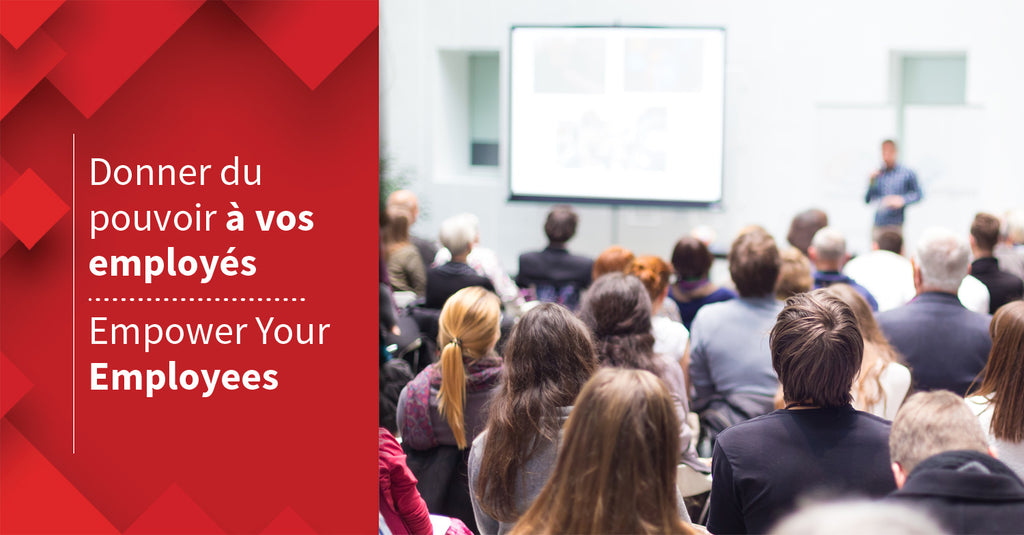 Why Employee Training is the Best Business Investment for 2022
Thu Dec 16, 2021 | jean-francois roberge
---
Employee training sounds nice in theory but is it worth it? The answer is YES—absolutely! You can gain several benefits from providing training, but many of us are already feeling strained on resources and don't know if we can spare the time or money. However, employee training is an investment that will generate improvements for more extended periods of time. A lot of companies are going to be utilizing this in 2022 to not only grow their businesses, but also improve employee retention as the labor shortage continues to affect many Canadian establishments.


In fact, according to the Business Development Bank of Canada (BDC) 41% of businesses surveyed said they would be investing in employee training in the coming year.
Is This the Right Time to Invest?
Many Canadian companies are more optimistic about the economic outlook for 2022 and are planning on increasing their investments to benefit from this momentum. The associated risk with investing, such as the uncertainty surrounding the economy, is diminishing, and businesses are confident they will get a good return so it's a great time for you to also consider making the same investments so you won't get left behind.
So Why Is Employee Training Such a Good Investment?
Well, employee training can improve morale and ultimately boost sales. It's been a long couple of years, and employees and businesses could use an upswing—but there are even more reasons why you need to make employee training part of your 2022 investments.

 

 
 Increased Self-Esteem and Performance
There is no doubt that the more knowledge you have, the better you perform. It can also improve your confidence. Therefore, when you provide your employees with training opportunities, it will bolster their self-esteem. It will further provide them with new and fresh knowledge and skills that they will be motivated to use and reinvest into their work. It also tends to evoke leadership potential in your employees, and they will want to seek out new professional opportunities. So your investment will continue to grow with your employees.  

Improved Thinking and Creativity
Learning of any kind stimulates the brain and strengthens your thinking muscles. This leads to more creative and strategic thoughts and ideas. For your employees, this can mean improving products or processes. Introducing new ideas from training service providers outside of your establishment also brings in a new perspective. This can challenge your employees and their routines and diversify their skills and problem-solving capabilities. 

Enhanced Employee Retention
When companies are not only committed to the success of their business but also their employees it is noticed. Employees feel more valued and inspired to work harder. It also increases their incentive to stay with your company as they will have a more positive outlook on their trajectory. Pierre Cléroux at the BDC explains that Canada's population is aging, and fewer people are entering the job market. Before the pandemic, this was a concern and has worsened since as many people have chosen to retire early and immigration has decreased. So offering benefits outside of traditional healthcare and dental can give you a competitive edge for gaining and retaining employees.
CFO asks CEO: "What happens if we invest in developing our people and then they leave us?" CEO: " What happens if we don't, and they stay?"

 

 
How Can You Get Started?
Just like you are committed to making improvements for your employees, we are committed to helping SMEs structure their sales force. We understand the importance of employee training, and our consulting services offer companies opportunities to do just that. Our services are aimed at enabling businesses to achieve their growth objectives. Through our immersive in-person training program, we provide your employees with the skills and knowledge they need to start improving their sales strategies.  

What you can expect from our Sales Bootcamp
We provide our expert knowledge on the

evolution of the sales force

and a review of the

3 pillars of performance

.

An overview of how to identify

high yield activities versus low yield activities

.

Tips on developing a tactical plan on how to

find new opportunities

.

Advice on

mastering your sales cycle

.

And strategies on developing personal leadership.

We strive to help you retain more employees and scale their sales. Our consultants have hosted dozens of Sales Bootcamps and will help you to regroup your team and give them the core competencies to capture their full potential and grow in 2022.   


Reach out today to learn more about our consulting services or book your Sales Bootcamp for your team.