Subscribe to our blog to stay up-to-date.
---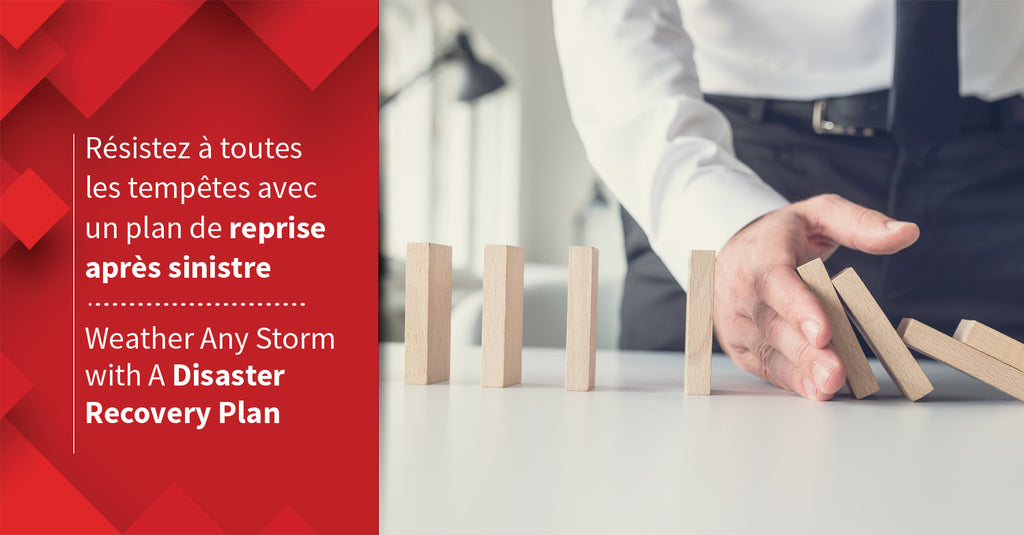 Why Data Disaster Recovery Plans Matter
Mon Jul 18, 2022 | jean-francois roberge
---
Data disaster recovery plans are the safety net your company desperately needs. While most people think it's more than enough to perform remote backup of their data, this is only one step in the grand scheme of the disaster recovery process.

We all know that things don't always go according to plan. This is especially true when it comes to our data. While every advancement of technology creates a smarter and faster work environment, cybercriminals are quick to keep pace. Infected files can halt productivity or even take down an entire business.

It's scary to think that all your hard work and that of your team, could be lost in a matter of minutes. That's why it's crucial that your team is ready to act when necessary. Considering disaster preparedness is the first step. The next is creating a plan.
First Step in Disaster Recovery is Data Backups:

The first mistake people make is not backing up their data properly. It isn't enough to upload a file to your Google docs and hope everything works out. While it's an excellent tool for collaboration, there are many flaws that leave your team at risk.

That's why you should always have multiple backups. To make sure you're on the right path, it's important to first understand what "backups" are.


Backups are the processes of copying your data. Data can include anything from your client files to big group projects your team is working on. Microsoft office files, images, and more is covered under the umbrella term "data." This data is then stored in a separate location from the origin point to be retrieved in case of service failures or damaged hardware.


The tricky thing is figuring out what backup method will work best for your team. There are many different options available, so it's important that you learn a bit about each one before deciding.


Full Backup:
A full backup is when all important files are backed up completely. This is used as the initial round for backups. We recommend using another backup method alongside this one.


Differential Backup:
A differential backup is used once a full backup has been completed. This method updates all files that were changed since the time of your full backup. It won't make doubles of your data, rather replacing the old data with the newest version. Differential backups also add any new data created.


Incremental Backup:
Incremental backups are like differential backups, except that they contain only the updated information and not the full backup. This means that in the case of a disaster, you'll need to have both the initial full backup and the subsequent incremental backups available. It takes significantly longer to restore data than differential backups, but it will ensure you always have the original and latest versions.


Local Backup:
A local backup is when data is stored at your location. Your storage device physically interacts with your computer when backing up data and is later put somewhere safe in the office. This can include external hard drives, CDs, or flash drives.


Mirror Backup:
A mirror backup is just as it sounds; it's a mirror image of your original source material, duplicated as you go. However, files deleted on your device will also be deleted on the backup. Most companies who support mirror backups offer some leniency, giving you a service with a 30-day window for data recovery in the event of accidental deletion.


Cloud Backup:
Data is backed up to the cloud for future use at any time. It gives flexibility for quicker restoration, administration, and is forever available.

The best approach for companies is to have a combination of these available backups. Choosing to have both a cloud backup and a local backup, for example, allows for faster restoration if anything should happen to your hardware. This will drastically decrease the amount of downtime after an incident.


While backing up data is essential in disaster planning, it isn't everything. There are several important steps to take. One of the biggest things to know is the difference between backups and disaster recovery.
When Disaster Strikes:

Often, people conflate data backups with disaster recovery plans. It's understandable, given that backing up your information is one of the key elements. There are, however, some important differences.


Disaster Recovery is a full plan for protecting data and technology against future disasters. Detailed objectives and contingency plans are decided to keep information safe. The goal of a disaster recovery plan is to eliminate chaos and promote disaster readiness for your team. This is important for events such as failed hardware, cyberattacks, natural disasters, or human error. 


Human error is responsible for many data security breaches. One report estimated that employees will make 118 mistakes each every year (Ocrolus). Human errors can be costly, and companies risk losing everything if they're not properly managed. 


Consider the following scenario:

It's a nice sunny day and you've been working diligently at your tasks. You're doing great, almost done a massive team project that's taken you months. But the day is fast approaching its end. There's only a bit left to do, and the deadline is still a few days away. No big deal! You close out of your task, leave work, and enjoy the rest of your evening.


You return the next day, open your computer, and discover your system has been attacked. Ransomware has infected your company's data, holding you hostage to a cybercriminal's demand for money. Your business leaders decide to pay the ransom to recover that valuable data. Yet even after paying, your business doesn't get all their files back.


Global statistics show that only 8% of companies affected by ransomware attacks recover all data after paying (Sophos, 2021).



On average, victims will lose approximately 35 percent of their data (Comparitech, 2022).

The risk is exceedingly high, too, that cybercriminals won't give you the decryption code for recovery even after payment. Meaning you risk losing all your data and your money.

To your devastation, that massive project you worked on with your team for months on end is gone. You now need to start from the ground up: researching, rewriting, and re-evaluating new data. That's only if your company survives long enough to successfully restore your systems.

Companies can only stay afloat so long with excessive downtime. A report by Veeam found that downtime can cost companies approximately $88,000 per hour, or $1,467 per minute (Veeam, 2022). For small businesses, it's nearly impossible to survive such devastating losses.

As terrifying as this scenario sounds, there is a solution.
Ready for Anything:

 

Disaster recovery plans ready your team for action when incidents like this occur. In fact, they can even prevent such occurrences!

Part of disaster recovery planning is backing up data, installing effective antivirus software, and deciding ahead of time how serious incidents should be handled. Make sure your files have been properly backed up by implementing regularly scheduled data checkups on a weekly, monthly, or yearly basis.  

Cyberattacks aren't the only thing that disaster recovery plans prepare you for. Anything from damaged computers to floods are within the scope of planning. Your team needs to know how much time it will take from the point of catastrophe to complete restoration.  
Implement RTOs:
Your team should have a recovery time objective, also known as an RTO. This is a goal-time indicating how long it should take to bounce back from an incident without major interruptions to workflow.
Implement RPOs:
You'll also need to come up with a recovery point objective, also known as an RPO. An RPO is the amount of data that must be recovered for your team to continue business operations. Factors like the age of your files, importance of assignment, and your RTO should be considered.

Consider creating a disaster recovery plan checklist. Work with your IT and administration teams to ensure everyone is on the same page. This could mean deciding computers should be unplugged before a storm, infrastructure should be updated, and assigning someone to look up weather reports before end-of-day or even research new cyber threats monthly.

Most importantly, your team should run through disaster preparedness drills. Just as you would with any other serious readiness plan, like fire drills, data recovery should also be practiced and understood. 

You and your team deserve to feel confident that unexpected incidents won't spell out disaster for your company. Take the time to work through your company's goals and really understand what data you rely on. These measures will promote a calm approach to data restoration.
Trusted Advisors Create Excellent Plans:

Speaking to someone with firsthand disaster preparedness experience is an excellent way to stay updated about the latest technological advancements and industry expectations.

Your own internal team is busy with their tasks, and they might not have time to learn about technological changes or known threats. That's why turning to an expert team, whose main role it is to stay on top of that stuff, is most effective.  

At XMA, our team knows the best practices for disaster recovery. We're well-researched and trained to advise on these situations. We make your company's needs a priority as we help you create and implement a disaster recovery plan. 

Looking to implement a disaster recovery plan for your team? Your team can always count on XMA.