Subscribe to our blog to stay up-to-date.
---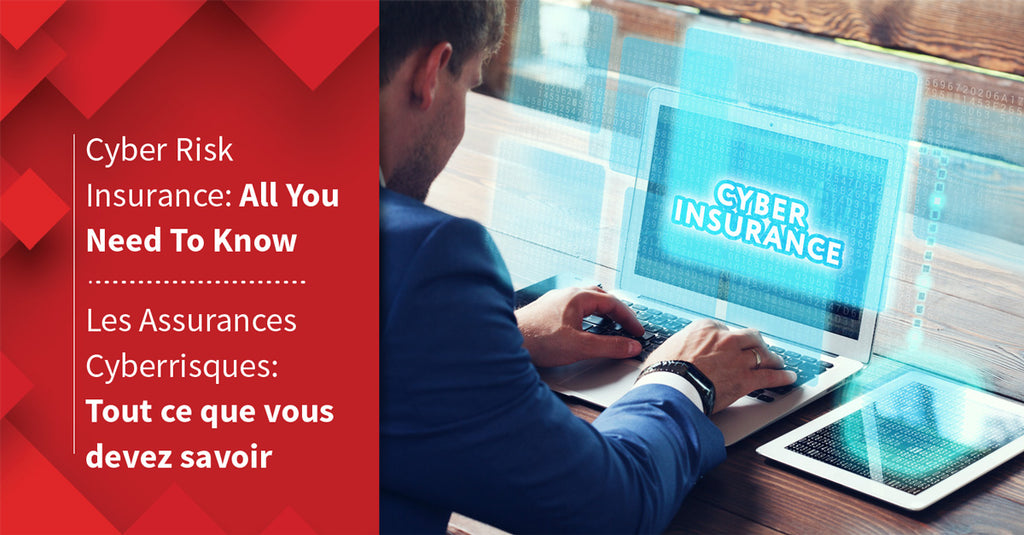 What is Cyber Risk Insurance and Why is It Important?
Tue Oct 18, 2022 | jean-francois roberge
---
While still relatively new, cyber risk insurance (also known as cybersecurity insurance) is meant to protect businesses against cyberattacks. The idea behind it is that if a cybercriminal were to take your system or data hostage, that you have the proper systems in place to protect you. 


It's becoming necessary for many businesses to get cyber-risk insurance, since cyberattacks are looming around every corner. These attacks are often costly to companies due to damages, downtime, loss of data, and possible damages to the organization's reputation. A BAC survey found that cyberattacks cost small businesses $100,000 in damages, with approximately 41% of small businesses experiencing an attack (Les Affaires).


Without cyber risk insurance, companies are 100% liable for bouncing back after an attack. They'll be the ones saddled with the bill, having to cover the costs of damages, and recuperating on business lost due to downtime.  


Cyber risk insurance is essential to helping your business recover from cyberattacks, but you should still approach it with the same level of scrutiny as any insurance. You need to closely review your contract to better understand what compensation will be covered under the scope of your policy. 

What's Covered Under Cyber Risk Insurance?
Every policy is different, as we stated above. So, the first thing you'll want to do is look over your contract and learn what to expect from your insurance. Some things that could be covered under your insurance include compensation for identity theft, extortion, marketing to preserve your company's reputation, and recovery costs.
Identity Theft Coverage:
In 2020, CNBC reported that as many as 1 in 10 people are victims of identity fraud (CNBC). Some of these affected parties will go on to be victimized more than once, and 21% of previous identity fraud victims will experience a similar attack (CNBC).


With shocking rates like these, it's no wonder why people are fearful and concerned for their personal data. Businesses especially should be cautious since they are prime targets for cybercriminals, having stores of private information about their customers, clients, and employees.


Cyber risk insurance can help you recover from an identity theft, with policies that can assist with the cost of recovering information and the associated costs of having your identity stolen.
Extortion Coverage:
Cybercriminals have several extortion avenues that they can take, and companies who are caught unawares could face some serious financial loss. Attacks like malware, which infect your business's electronics, are more common than people want to believe. At this point in time, ransomware has reached "epidemic proportions globally" (Cybersecurity Ventures) and is a commonly used attack by cybercriminals.  


If your company's data is ransomed by a cybercriminal, who's threatening to destroy or distribute data unless paid, then you risk losing:

Money

Data

Your Company's Reputation


Often the demands made by cybercriminals are steep, and some small businesses can't afford to pay the ransom. Even then, sometimes after the ransom has been paid cybercriminals will refuse to return your private information. Cyber risk insurance can help cover the costs of such extortion.
PR Marketing For Reputation Coverage:
Public opinion matters greatly for a company to achieve success. Experiencing a cyberattack means losing time and money, while also causing long-lasting public distrust of your business. Recovering from such an experience takes an expert, diligent marketing team who can be trusted to work on boosting your reputation.


After your business has recovered from a cyberattack, you're going to have to deal with the fallout. You're going to have to explain to current clients that their data was stolen, while also convincing them and future clients that something like this won't happen again. Upset and frightened customers are likely to reach out to your team demanding an explanation. Giving the wrong answers during this time could serve to fuel the fire and your business's reputation could suffer greatly.   


Marketing and PR management can cost thousands of dollars. Regaining your reputation can be an uphill battle if you're going it alone, and you're really going to want a marketing team to have your back throughout the process. Then how can you cover the costs? Your business has just dealt with an attack and likely can't spend what little funds may remain on marketing.


Luckily, cyber risk insurance policies can help pay for your marketing efforts. Insurance companies may cover some or most of the costs, depending on the policy in place.
Recovery Coverage:
When experiencing a cyberattack, businesses will deal with unwanted interruptions to their daily practices. The recovery process can be disorderly, chaotic, and upsetting for those involved. Some small businesses have to consider whether or not to shut down after an attack, while others have to consider letting employees go to recover on lost wages.


These impacts can spell out the end for a business. Small businesses could feel the impacts of an attack for years to come, all the while hoping they won't face another assault on their company.  


To help alleviate the burden of costs, and to support small businesses through these tough times, cyber risk insurance will protect companies from "potential financial losses" that they could suffer (Microage).
Cyber Threats to Look Out For:
Ransomware and identity theft aren't the only attacks that exist in the cyber world. Your business could be facing multiple threats at any given time. It's important that you prepare your team for the worst and educate them about how to protect private information.


Our team at XMA has urged companies to review their current practices for disaster recovery, while also promoting safe online practices. Implementing stronger company policies surrounding data security is now required under Law 25 in Québec, and the first step should be knowing what threats are out there.


A previous blog of ours (which you can read here) detailed several attacks popularly used by cybercriminals and what you can do to protect your business. These include:



Pairing knowledge about these threats with the right cyber risk insurance could save your company from devastating losses in the future. 
 
Learning More About Cyber Risk Insurance
Not knowing what's around the corner on the internet can be unnerving. Maybe you've started to feel like every click you make could cause a fiasco, or every email you open could cause a breach. In a matter of seconds, all the important data that your company protects could be compromised.


If you've been worried about this, you're not the only one. There are likely many members of your team who have concerns for their safety and that of your company.


Cyber risk insurance can help you manage attacks, prepare you for the worst, and give your team some peace of mind. Knowing that there's another company there willing to help lifts a heavy burden off your teammates' shoulders. But how do you choose the right insurance policy? And how can you be sure that all your needs will be properly met? 


We at XMA recommend that the leaders in your company come together to learn more about cyber risk insurance. Knowing what policies are out there and how to find the right are two essential elements in this ever changing cyber world.


On November 3rd, we will be hosting a webinar to go over cyber risk insurance and what you can realistically expect from your policies.
Sign up for our webinar here to reserve your spot.