Subscribe to our blog to stay up-to-date.
---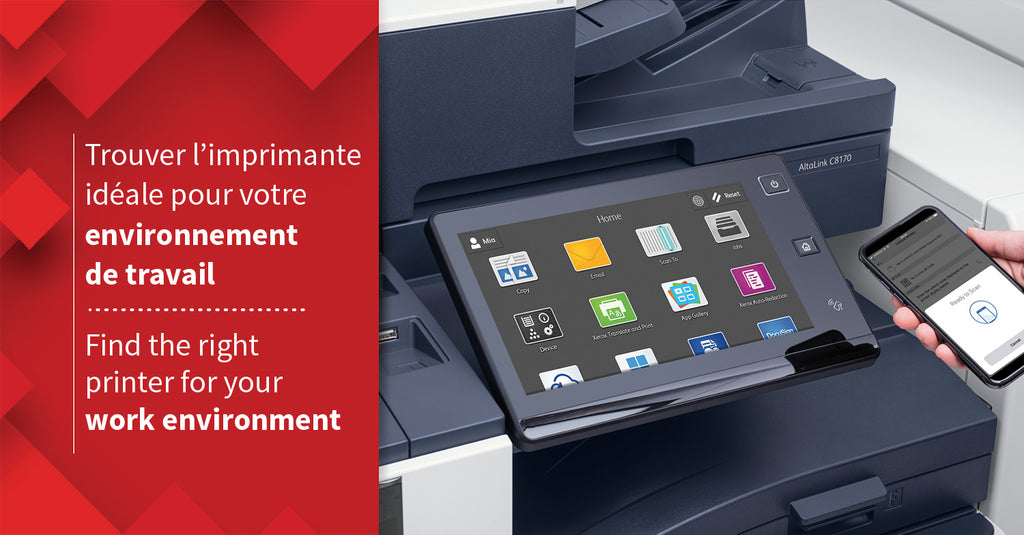 Your Printer Buying Guide
Tue Aug 23, 2022 | jean-francois roberge
---
As we near the end of the summer, many are gearing up for things like the start of the school year and the reorganization of their work environment. It presents an excellent opportunity to replace your obsolete technologies.
One piece of equipment that might have been left for too long without consideration is your printer. Yet, they're at the heart of our offices. Documents flow from computers to printers, and to the appropriate hands or files. Every day, our printers help us perform essential tasks that allow us to keep our offices and projects operating. It's important to have a printer that's equipped to handle every type of task performed daily in your office.
When it comes time to upgrade, many shy away from the task. It takes time and research to find the perfect device. And there's A LOT to consider.
Paper. Inkjet vs laser. Supplies cost. Device cost. Features.
It's no wonder people put off upgrading printers, there's so many options and so many factors to think about!
That's why we wanted to help out as best we could.
However, buying a printer doesn't have to be as scary as it sounds. We've created this resource to break down the essentials of your new device, while guiding you through the buying process.
What Will the Printer Be Used For?
The first question you should ask when buying a new printer is this: 
Your printer will be used to do what?
Printers aren't all built with the same purpose in mind. Some printers work better for infrequent use, while others are created for maximum output.
You could be buying a printer for any number of reasons: for the office, for home, for school, or even for art projects! Understanding your needs first will ensure you find the ideal printer. 
Home Printing
Home offices have increased in popularity. The original rise in use happened due to the pandemic. Yet despite many returning to work, home offices have stayed popular. People enjoy having a space to focus and work while benefiting from the convenience of home amenities.
Most home offices are small, since they're meant to be the perfect space for just one person, and a printer will need to fit in that space. These printers will also see their fair share of use. Documents for coworkers, yourself, or even personal use will be sent to this device. 
Home office printers need to be:
Compact in size.

Able to handle medium paper output.

Cost effective for the user.
Smaller printers, like the Versalink C405 are perfect for home office users. 
Workplace Printing
Unlike a home office, workplaces require larger printers. Several users will be sending jobs to these printers daily. These printers need to manage fast output on a larger scale.
Some offices will even require more than one printer, depending on their company's size. If this is the case, you'll likely want printers of the same brand and type to maintain consistency for your IT team and for your users. 
Company printers need to be:
Able to handle maximum paper output.

Optimized with supplies in mind.

Consistent in brand and model.
A great choice for an office printer is the Atlalink C8100. Laser printers are built with maximum black and white and colour document output in mind and can keep up with the demands of a busy office. 
School Printing
As the summer draws to an end, students are starting to think about returning to school. It's a great opportunity to consider your upcoming printing needs.
School printers for students, much like home printers, generally should be small. Sometimes very small! These printers will be set-up in dorm rooms where space is limited.
You'll also want a printer that's ready with supplies when you need it, but that won't waste supplies if the printer goes unused for a while.
School printers need to be:
Compact in size.

Able to handle minimum paper output.

Affordable for students.
Laser printers, like the WorkCentre 6615, are a great choice for students, since they won't have to worry about the supplies being wasted like they would with an inkjet. Toner, used in laser printers, doesn't dry up like ink does. It's a simple and effective solution for students.
Creative Printers
Wanting to print marketing material, like brochures and posters? You'll need a quality printer. Marketers are always on the lookout for the perfect printer that can create vivid colour prints! 
Creative printers need to be:
Capable of producing vivid prints.

Able to handle medium to maximum paper output.

Able to manage prints of various sizes.
Depending on the size of your prints or the type of product you're printing, you'll need a printer with unmatched performance, flexible finishing and feeding, reliability, and exceptional image quality like the Xerox PrimeLink C9065/C9070.
What Will the Printer Need to Do?
Now that you've figured out what your printer will be "for" in terms of work environment, it's time to think about the "uses" you'd like your printer to do.
As mentioned, not all printers are built with the same features either.
While every printer and every function available has its perks for the end-user, some people will require more options. 
Functionalities you might need include:
Printing
Scanning

Faxing

Copying

Bluetooth Connectivity
Having these helpful functionalities available will alleviate stress. Using one system to scan, copy, print, and send files from your mobile devices can be a serious load off your shoulders. There's nothing worse than wanting to get something done quickly and having to run back and forth between ten different devices to do it.
Remember what your printer will be used for and ask yourself how many of these functionalities you might like. Scanning documents can be essential for students, while having bluetooth connectivity can be a great choice for company printers. 
Take a look at yourself or your team and flesh out what tasks you'll be performing. Depending on the work you engage with, any or all of these functionalities could be a necessity. 
The Importance of Wi-fi Connectivity
One of the most important features a printer can have is the ability to connect to your wi-fi. This allows you to print from anywhere in your house or office without worrying about additional cabled connections.
If you already have a printer in mind that doesn't have this feature, then unlock your printer's true potential by pairing your multifunction printer with something like Xerox's ConnectKey Technology.
XMA offers ConnectKey Technology software to customers, helping them better connect their mobile devices to their printers. ConnectKey adds mobile and cloud capabilities to your multifunction printers, giving you and your team access to print from anywhere. This can be especially beneficial for teams that are dispersed between the office and home.
While all these functionalities are great, the biggest concern can be the cost.
So, let's talk about it!
Finding the Right Device at the Right Cost
Now that you have the where and the how, out for your printer, it's time to talk about "how much?"
Print devices range in price. Some are lower in cost, built for home office users or students trying to save some extra money wherever they can. That cheap printer might look tempting but watch out! There are other fees to consider.
It's not just the cost of your device that you should factor into your budget. There's also the cost of supplies. While your print device might be cheap, the replacement cartridges could be costly. 
You should consider your long-term budget as well as your short-term one.

Factors to consider in your budget include:
The cost of the device.

The cost of replacement ink/toner.

The cost of paper.

The cost of unexpected repairs.

The cost of maintenance.
Another important thing to consider is your number of page yields.
Knowing the number of pages each printer yields before needing its supplies replaced will help you plan your budget.
Page yield can vary depending on certain things, such as the amount of ink coverage on the page.
If your coverage is lower (printing simple text documents) then your printer will have a higher page yield.
If you're printing high coverage colour documents for more creative pursuits, then you'll likely need more frequent cartridge replacements.
You can calculate your cost per page yourself by dividing the page yield by the cost of your consumables, or you can use the manufacturer's stated number to get a rough estimate.
All this math hinges on knowing the cost of replacement cartridges. 
The Cost of Supplies
To look at the cost of supplies, you first have to know whether you're going to buy an inkjet or laser printer. Both devices have their merits, and what it will ultimately come down to is two things: frequency of use and purpose of the printer. 
Inkjet Printers
The initial cost of an inkjet device is affordable, and the device is often compact in size. This makes it the perfect choice for home offices.
Inkjet printers are also better for marketers or anyone looking to print quality images. These devices' DPI, dots per inch of paper, tend to be higher. The higher your DPI, the higher the resolution of your prints.
Inkjet printers can reach a maximum resolution of 5,000 DPI, making them the perfect choice for printing brochures or posters for marketing.
One notable downside is how costly the ink can be.
If you buy an inkjet printer, you'll likely pay more for supplies. Ink can dry out if you don't use it often enough and it tends to run out quicker.
Laser Printers
Laser printers are all about speed. They're created with text document printing in mind, which means their DPI is lower than that of a standard inkjet printer. However, laser printers yield more pages per minute than an inkjet printer could.
Laser printers are perfect for company offices or for students looking to print their documents fast. Most laser printers average 15 to 100 pages per minute, unlike an inkjet which averages 16 pages per minute (IDProducts).
If you're looking to print text documents, then you can also save money on the initial cost of the device as well by opting to purchase a monochrome printer. 
If you're looking to optimize the paper output in your office, then you'll likely want a larger printer that can handle maximum printing.
Looking for speedy prints? XMA offers printers that can print anywhere from 24 pages per minute to 314 pages per minute, meaning you'll find a printer that can get the job done in the time that you need.
What's more, you don't have to worry about toner drying out. Toner cartridges also tend to be larger than ink cartridges, leading to higher pages yielded before replacement supplies are needed.
Save on Consumable Costs with Managed Print
Since consumables can be costly either way, one thing to consider is Managed Print service. For larger companies this is especially helpful.
Managed print solutions can be an excellent way to save money. Our team at XMA will look at your processes and find ways to streamline them, ultimately reducing unnecessary waste and boosting production.
To top it off, consumables are included with our managed print solutions!
If you're seeking ways to improve your company's printing practices while saving money on consumables, managed print can help!  
With ink and toner now out of the way, it's on to the biggest consideration for printers. Paper.
Paper Sizing Explained
You can't print without paper! It's a given that you'll buy paper once you have your printer. But do you know what type of paper you'll need or the appropriate size of paper for your prints?
School documents and business documents are often printed on standard 8.5 x 11 inch paper, or sometimes 8.5 by 14 inch paper. But those aren't the only size papers out there. 
The sizes of paper most common in North America include:
8.5 x 11" (Letter Size)

8.5 x 14" (Legal Size)

11 x 17" (Tabloid Size)

17 x 11" (Ledger Size)

5.5 x 8.5" (Statement Size)
Specialized printers, such as wide-format printers, can handle sizes even bigger than the ones listed above. These prints are often used for advertising or posters. 
Wide-format prints are great for marketing teams, who may want to run ad-campaigns using posters. These prints will need to be high-resolution and larger than your standard size paper to draw attention and engage your target audience.  
Paper size matters when it comes to buying a printer.
Understanding your dimension needs will ensure you're not caught unaware later. Make sure to read what paper your printer can manage before purchasing.
Types of Paper
When choosing a printer, finding the right paper to meet your needs is just as essential as choosing the device.
Text documents won't need the glitzy, vivid colours that glossy paper can provide. Likewise, printing a beautiful art print on a coarse paper will dampen the vivacity of your image.
Looking to print text documents with a laser printer? Then you'll need paper specifically made for laser printers. 
Inkjet printers can handle a wider range of paper types, from your standard text document paper to satin finishes or coated stock paper.
Whatever paper you choose, make sure your printer can handle it. Also make sure to adjust your printer's settings ahead of time before printing. This will help you avoid things like paper jams or other accidents.
A Lot to Consider? XMA Can Help!
Phew! That's a lot of ground we've covered. If this seems like a lot to take in, don't worry––we can help. Our team at XMA has many years of experience matching clients to the right printers.
It's normal to have questions and concerns about your purchases, especially when it comes to something as important as your printer.
Reach out today to have one of our experts run a needs analysis.