Subscribe to our blog to stay up-to-date.
---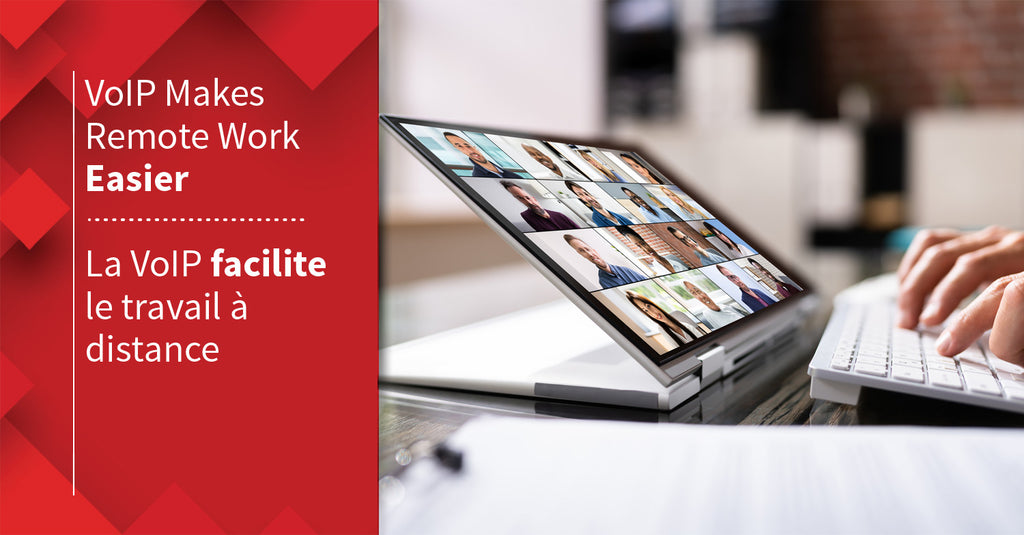 How VoIP Can Improve Communication for Remote Workers
Mon Jun 19, 2023 | jean-francois roberge
---
Incorporating Voice over Internet Protocol (VoIP) into your work-from-home strategy is essential. Team communication has evolved since the days of working exclusively in-office, and it's important that you use all the best available tools to set your team up for success. While working remotely comes with many perks, one of the potential downsides is the inability to effectively collaborate with fellow team members. This can be detrimental to important projects, and a hindrance to your team's progress, but setting your team up for success is easier than you might think!
Keeping communication clear and open between your team is best for productivity, employee satisfaction, and for your clients' happiness. It's the make-or-break piece of the puzzle that will map out your team's future. Understanding what VoIP is and how it can help your team is the first step to boosting morale for your remote workers and creating an overall better team experience!
What is VoIP?

 
VoIP (sometimes called IP telephony) is a communication system made up of both software and hardware. It enables your team to make phone calls over Internet Protocol (IP) networks. VoIP is unique from other telephone services because it uses the internet rather than the public switched telephone network (PTSN). Calls are transported through media streams that specially encode audio and video.
In the early days of VoIP's implementation, providers used solutions that were similar to older telephone networks. Nowadays, many providers offer dynamic solutions that allow for interconnection between users of two domains on the internet. The system can also provide conference calls, voicemail, and call recording to help with business records.
VoIP can easily be accessed through the internet and used on your computer or even your mobile devices. Users can make calls and even send SMS text messages. VoIP is a complete solution that brings all modes of communication together under one umbrella.
VoIP Functions You Can Integrate Into Your System
Telephony Functions:
Unlimited extensions

Call waiting

Conference call

Simultaneous ringing on cell phones

Visual voicemail

Voicemail by email

Missed call notifications by email

Voicemail transcription

Google Chrome extension

Windows/MAC/IOS/Android application

 
Call Management:
Answering machine (IVR)

Call groups

Call parking

Processing times

Paging

Incoming faxes by email

Call Center:
Queues

Active listening and supervision

Call recording

Shared telephones (hot-desking)

Automated call reports
Messaging:
Instant messaging between users

Instant messaging via website

Facebook instant messaging

SMS messaging
Videoconferencing:
100 participants/16 simultaneous cameras

No installation required, browser-integrated

Presentation screen sharing

Individual access links

Dedicated mobile application
Security:
Automatic blocking
Call barring by country
Optional Services:
Greeting message recording
Microsoft Teams integration
CRM/REST/API integration
Network and WiFi analysis
Network monitoring and metrics
On-site technical support

Not only are you able to improve your employees' work experiences, but you're also equally improving the quality of customer service for your customers. 
How VoIP Will Benefit Your Remote Team
More and more teams are opting for a hybrid or even fully remote model. Employees especially want to work full-time from home, with one study finding that 61% of employees prefer being fully remote and 74% of professionals expect remote work to become standard (Forbes). Remote employees also tend to be 24% more productive than in-office workers (Small Biz Genius). But that productivity and satisfaction depends heavily on the systems that team leaders implement. Most notably, it's imperative that you set up a strong foundation for communication and collaboration.
VoIP is the ultimate tool for remote workers. It offers flexibility, easy set up, and fast service. One of the most useful things about it is that it can be used from employees' cell phones without requiring them to give out their personal phone numbers. This will give your team the flexibility to move around their space, freedom to commute between the office and their home office as necessary, and still maintain their personal privacy and freedoms once the workday is done.
Not only does VoIP help to protect your team members' privacy, it also helps them improve their overall productivity. All employees can easily get into contact with one another via texts, voice calls, or even video calls. This can also all be done on both their computers and mobile devices. With VoIP's ability to be installed on pre-existing devices, your business will be cutting down on hardware costs and freeing up more money in your budget for supporting your remote team, organizing team building events, and better serving customers. The ability to connect anytime anywhere further means you won't have to worry about a team member missing an important update or slowing down a process by not answering an email. Everyone will now have plenty of ways to get in touch fast and with ease.
To better support remote employees, VoIP's system is rooted in the cloud. It is accessible from any place as needed. That means that your team can free themselves from the traditional "in-office" tethers and move back and forth between offices without trouble. Calls and messages can also be saved for further review by your team, making it easier to pass information back and forth while also improving customer satisfaction.

Set Your Team Up for Success with Our VoIP Services
VoIP is the perfect solution for remote teams, who need to stay connected and collaborate from across distances. As our workflows continue to adapt to the new needs of hybrid workers, so too should our modes of communication. Integrating VoIP with your pre-existing hardware is both easier and more cost effective than setting each home office up with the necessary equipment.
XMA works to bring the best VoIP service we can to our clients. With our VoIP services, you can:
Always be online and ready to communicate

Eliminate long-distance charges for your customers

Pay less money than you do for traditional telephone services

Keep your business and client information secure 


Your team's collaboration can be vastly improved with the right solutions in place––and we can help! Don't let the lines of communication fall by the wayside. Contact us for an exploratory meeting meeting!