Subscribe to our blog to stay up-to-date.
---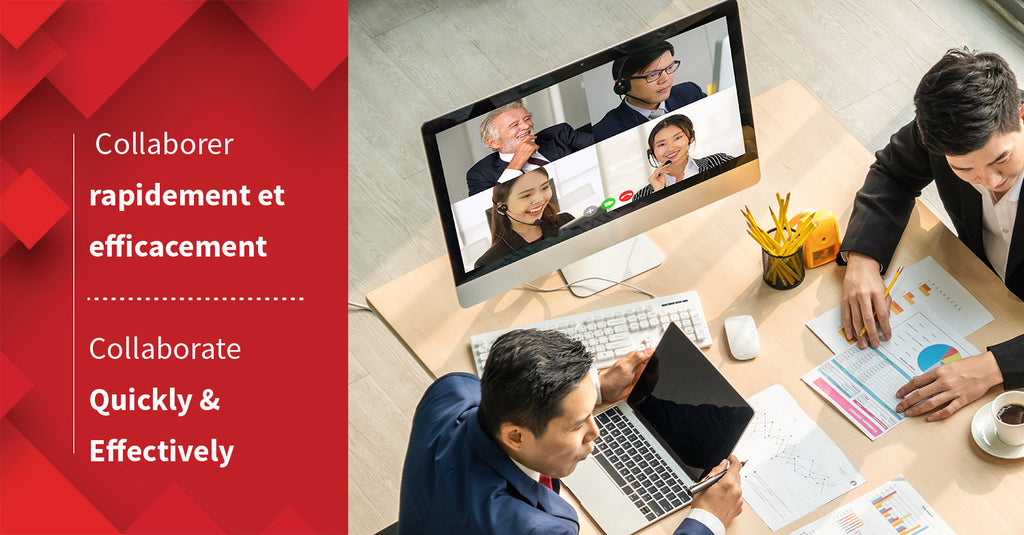 How to Implement a Successful Hybrid Work Model
Fri Jun 25, 2021 | jean-francois roberge
---
Is your office prepared for the inevitable transition to the hybrid model? 
After months of working from home, many employers have realized that their businesses can still function and be successful when their team is working remotely. Technology makes it easy to communicate and connect, making sure that your team never misses a beat, no matter where they are. 
Now that employees have experienced this balance and undoubtedly realized that it can increase their quality of life while still being productive at work, they will begin to seek out opportunities where they are able to embrace the hybrid model. 
No matter which way you look at it, workplaces will not operate the same as they did at the beginning of 2020. 
Here are four steps that you can take to ensure that this transition goes smoothly. 
*Keep in mind, your team has successfully been working remotely for over a year—so it shouldn't disrupt business operations and should be a seamless transition for everyone if implemented wisely. 

1. Start Documenting All Processes 
If team members are going to be splitting their time between home/other remote spaces and the office, it'll be more important than ever to document and/or update your processes and procedures. Having documentation that is up to date and easy to follow will help employees feel confident in what they are doing. It will also eliminate the opportunity for error and miscommunication. 
*This is also key when onboarding new employees remotely.
Project updates become less frequent and a bit more difficult when everyone is working in different locations. That's why we recommend investing in a project management tool that will work for your whole team. Using this, your team will be able to assign due dates and tasks, keep track of notes and to-do lists, easily collaborate with each other and keep tabs on the status of all projects. 

2. Cybersecurity Should Become a Key Focus
It's no secret that cybercrime became more prevalent with the rise of COVID-19. In fact, according to Barracuda Networks (2020), email scams related to COVID-19 surged 667% in March alone.
People all over the world were working from home for the first time (with little to no protection), and cybercriminals took advantage of the situation. 
That being said, companies have learned a lot and can now better protect their networks and employees to ensure that sensitive data remains secure. 
Here are some action items you can start implementing today: 
Train your employees on best practices (and update them often because things change quickly in the cyber world). 

Use VPNs (virtual private networks). 

Back up your data—often. This isn't optional. 

Update your passwords regularly and make sure that proper password management is held to a high standard.

Use two-factor authentication (it can be more time-consuming but it is worth it for the added protection).

3. Invest in Technologies That Will Help You Succeed 
In order for your team to be successful in a hybrid workplace model, it's essential that you set them up with the tools they need to thrive. Your team needs to be able to collaborate quickly, easily, and effectively. They also need to be able to communicate often and have a place to take notes so that everyone can get the same updates, whether they were in the meeting or not. 
Here are some technologies that you should consider investing in: 
Project management software such as

Asana

. 

Unified communications.

Messaging software such as Slack or

Microsoft Teams

.

Updated/physical hardware for all employees (whether they are remote or in the office).

Video conferencing software (which we can help you with). Find out more about that

here

.
4. Don't Forget About Team Building
Your team doesn't have to be in the same room to collaborate or bond! Make time for virtual team-building exercises. Not only will it help boost team morale, but it allows your team to get to know each other, which can play an important role in project success. 
Here are some team building ideas you can try: 
Set up a Zoom meeting and invite everyone to get outside and go for a walk. You can collaborate and discuss new ideas or just talk about anything that comes up. 

Start your video meetings with a short game or brain teaser. 

During your next meeting, get people to introduce their pets or talk about what they are watching on Netflix right now. The goal is to start a conversation that is not work-related so people can get to know each other and take a little break from work. 
Now is the best time to begin this transition. Your employees are used to working remotely, so the shift won't feel overwhelming. The hybrid workplace is going to shape the future—are you ready? 
If you want to learn more about how you can create a successful hybrid workplace, contact us today. You can also use our new Chat Bot (on the bottom right of the screen) to find your Sales Rep! We look forward to helping you succeed and grow.