Subscribe to our blog to stay up-to-date.
---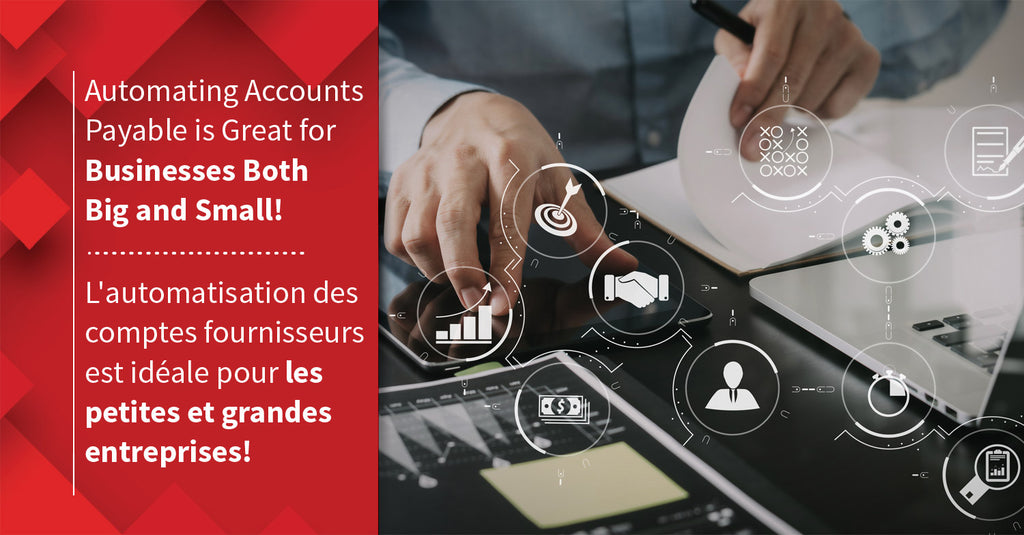 How Every Organization Can Benefit from Automating Accounts Payable
Fri Aug 25, 2023 | jean-francois roberge
---
Companies of all sizes now have more opportunities than ever to embrace accounts payable automation. Its helpful functions can reduce time spent on tasks and improve the focus of teams. Despite these benefits, some companies are wary. They're unsure of how automation can assist their specific organization, often believing that it will be expensive or ineffective. While it's fair to want time to research, refusing to incorporate automation into your workflows in the future could cost your business time and money.
People often equate automation to tasks such as assembly lines or other such labour-intensive skills. This couldn't be further from the truth. Yes, many manufacturing companies have some level of automation, but so do office style jobs! Everything from accounts payable to sorting emails can be done using automation. There are lots of tools available, and when incorporated properly into your workflows, they can vastly improve your team's efficiency.
We've created this blog to help business leaders understand automation in the context of their organization. Specifically, helping you understand how automating your accounts payable will make the lives of your whole team easier. Be it a small team of less than ten or a large company of 100+, workplace automation can improve the growth of your business.
What is Workplace Automation?
Robots and flying cars—that's what a lot of people think when they hear the word "automation." It can be a fun way of thinking, imagining cars zipping by in the air, but to be honest automation is more subtle than that. It's things you might not even initially consider as automation. One example is when you're typing an email using Gmail and suggested text pops up, helping you finish your sentence and saving you time! That's just one small example, but you understand the idea.
Most automation now comes in the form of software applications, not robots. It may be less glamorous than people might think it is, but it's no less helpful. Government organizations, schools, accounting firms, and law firms are among some of the teams who benefit most from automation. Having software that takes on the smaller tasks means teams are free to focus on more intensive projects. They can put all their effort into that one critical task without worrying that they're forgetting about a million little things.
Anything that can be seen as "repetitive" in nature can often be automated. Some areas where automation is thriving includes:
Marketing:

With the invention of email marketing companies like HubSpot and Constant Contact, teams can now set up email campaigns to automatically send to their chosen list.




Human Resources:

Payrolls and timesheets can now be digitized, saving time on printing and copying documents. Record keeping is also made tidier and more efficient.




Accounts Payable:

Invoices can now be kept in one easy-to-use system instead of being filed away in storage cabinets and potentially lost. They can also input relevant numbers automatically.

This is essential for every organization!
Whatever your organization, there's room for automation. It can improve the lives of your team members, encourage stronger relationships with customers (with fewer errors due to automation), and improve the trustworthiness of your business. 
Why Are People Fearful of Automation?
You may be wondering, "With all those benefits, why do some teams still hesitant?" Most of the reluctance to incorporate automation comes from misconceptions. People believe that automated systems will replace their jobs and are often fearful of including automation in the workplace as a result.
The most important thing you can do if you're looking to automate certain tasks is to talk openly and honestly about it with your team. We've written a guide on how to talk to your accounts payable team about automation. Take a look here!
While automation can take many forms, one of the most universally needed types is automation for your accounts payable. There are many accounts payable solutions out there that can accommodate the needs of businesses of every size.  

How Automation Benefits Teams of Different Sizes
Another common misconception about automation is that implementing it is too costly for small to medium sized businesses. Team leaders often believe that only large companies and government organizations can afford to pay for automation. We're happy to report that this isn't true! Teams of all sizes are now turning to automation to help them complete their accounts payable and other tasks.
Accounts Payable Automation for Small and Medium Businesses
Small and medium sized business owners might be intimidated by automation, as it sounds expensive and like a big change that will cost them lots of time. There are countless reasons your small business might want to turn to automation, however.
First, these solutions aren't actually as expensive as you might think. XMA Solutions offers automation options for companies of all sizes.
Secondly, automation will permit you to inevitably save time. Our customers generally save money because of the faster processing of their invoices, through accelerated chains of approval, fewer errors, and automated communications. We also have solutions that automate document management, allowing you to digitize all your paper documents onto a single electronic platform, making it easy to find your document quickly when needed or audited.
Overall, the benefits of automation far outweigh the potential cons for small and medium sized businesses. Now more than ever, these businesses can compete with their larger competitors. Automation is helping teams like these thrive and stand out. 
Automation bridging the gap between SMBs and major companies, with some reporting that automation has doubled the size of their companies (Forbes, 2023).
Want to learn more about how small businesses benefit from automation? We've written a helpful blog about workflow automation for small businesses, which you can read here.  
Accounts Payable Automation for Large Organizations
Business process automation is seen as one of the "fastest ways to improve both efficiency and productivity across every department" (Harvard Business Review, 2023). For big businesses, this means helping not just one team thrive, but all. From marketing to customer service, each branch under your business's umbrella will have their own unique needs and pain points. That's why so many are turning to workplace automation. It helps ease stress, reduce errors, and improve morale across the board.
With so many tasks to complete and the majority of them to be completed at the same time, big businesses need solutions that will tackle the minor daily tasks effectively. Accounts payable is often at the heart of this. They're responsible for issuing proper invoices and keeping your customers happy. That's where automation comes in. As your team expands, your business continues to grow, and your number of customers soars, you'll want to ensure you have the best processes in place to set your business up for success. Removing some stress out of your team members' busy days should be priority number one.
After surveying a group of workers, Salesforce found that more than 90% of them felt automation boosted their productivity. Reports have also indicated that these tools strengthen cooperation between teams, encouraged individual productivity, reduced errors, and helped to speed up decision making times (Salesforce, 2021).
With so many teams working for your business, keeping up collaboration is essential. Accounts payable automation makes that happen! With the right software and tools, your teams will feel more connected than ever before. All information is stored in one location, meaning that everyone on your team will have easy access to it. This will help you further extend your business's reach, while also providing every team working for you with the valuable information they need to complete their tasks together.
Finding the Right Accounts Payable Solution for Your Team
No two businesses are the same, and the needs of a small business will be different than that of a large organization. That's why XMA offers several accounts payable automation solutions. We want to ensure that each of our clients has their unique business needs met.


Some of the solutions we offer include:
By reaching out and working with our automation consultants, your team can find the perfect solution. We will assess your current workflows, speak with you about your future account payable needs, and pair your business with a solution that will benefit your clients. 


Contact us today to learn more about the benefits of automating your accounts payable and our available software.