Subscribe to our blog to stay up-to-date.
---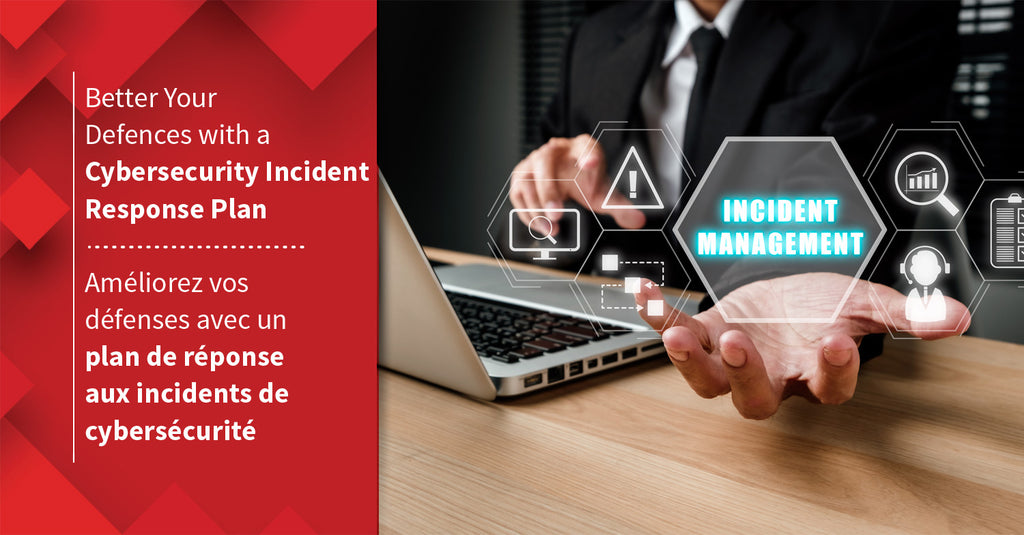 Every SME Needs a Cybersecurity Incident Response Plan
Thu Jan 26, 2023 | jean-francois roberge
---
Ever heard of a cybersecurity incident response plan? You might not be aware that there are things your SME can do to protect itself early from possible threats. You don't have to wait until after an incident has happened to "fix the problem." Instead, your team can take a proactive approach and create an incident response strategy early.


Many at-risk businesses don't even realize how in danger they are, most especially small-to-medium businesses. In fact, there are many SMEs who believe that cybercriminals have no reason to target them at all because of their size. However, this is far from reality. Studies have found that nearly 43% of cyberattacks occur on small-to-medium businesses. A different survey found that 87% of respondents didn't have any written policies in place to manage cyberattacks (Government of Canada).


You have to be proactive! There are several measures that businesses can take to better protect their data. From cyber risk insurance to enforcing stronger cybersecurity awareness in the workplace, SMEs have options readily available to protect them if an incident should occur. They can also start looking to the future and create a strong cybersecurity incident response plan.
What Is a Cybersecurity Incident Response Plan?

Taking your business's cybersecurity into your own hands starts with a well thought out plan. A cybersecurity incident response plan is just the thing SMEs need to combat against future attacks. Not just fight against them, but stop them in their tracks entirely.


Cybersecurity incident response plans are built by team leaders and business owners, with the help from cybersecurity experts, to ensure teams can bounce back quickly after an attack. They lay out detailed roles, emergency contact information, available resources, and some practical cybersecurity knowledge for your team. 


Each plan is unique to your specific team's needs because it's built by you with your business in mind. Some teams might receive a lot of emails, for example. These teams would need detailed instructions on how to spot phishing emails and how to avoid clicking on malicious links. Other teams might deal with sensitive client data and would need to know how to properly store or dispose of data on their devices.


Why Do Cybersecurity Incident Response Plans Matter?

For so many reasons! First, incident response plans help save your team from problems down the line. With the extra support and training that the plans offer, response plans can act as guides for unsure members of your team. They could be facing a dilemma at work, like noticing strange emails coming to their inboxes. Instead of clicking on them and trying to figure out what they are, your team member could turn to the plan to see what it says to do. In the plan, there will be detailed instructions about how to avoid malicious links and suspicious emails. Steps in the plan could include redirecting the question to a member of your IT team or even how to block an email address entirely.
 

Security response plans also give your team peace of mind.
Your IT team might not be able to monitor your devices 24/7. Because of this, cyberattacks could slip through defences unnoticed, lurking in the background and waiting for the optimal moment to strike. To fight back, your security response plan should detail every step in your cybersecurity defences. This includes any failsafe that you have in place should something go wrong. Whether that's having firewalls plus your IT team monitoring, or adding an extra layer of protection by pairing your IT with a managed IT team, your teams will be all the more knowledgeable about how your business is actively protecting sensitive data.


What's more, you'll be building a better relationship with your clients. Having a well thought out incident response plan in safe will enhance your SME's reputation. Clients will feel confident in your team, and know that they can trust you.


For SMEs, having an incident response plan in place matters even more. Because of their often limited resources or false hope that they'll be too small a business to be attacked, SMEs face some of the most serious impending attacks in the cyber world. Cybercriminals are all too aware that SMEs aren't really watching their devices for threats. Remember those 87% of businesses who didn't have written policies in place because they believed they weren't worth attacking? Well, so do cybercriminals. They know who the easy targets are. And unfortunately, SMEs are high on that list.


Incident reports will bring cybersecurity awareness to the forefront, creating a stronger understanding for your team of the dangers that are out there. This is critical for the survival of many SMEs, because sadly all it can take is one incident to bring a whole company down.
The Real Cost of Cybersecurity Attacks on SMEs
As if potentially losing all your data wasn't enough, SMEs also need to deal with the unfortunate reality that a cyberattack could lose them their business. The rising costs of ransomware attacks are especially worrisome, as they've continued to grow year by year. In 2022, companies in the U.S. faced unbelievably high costs from data breaches. On average, the cost of a single data breach was $9.44 million, which is up from last year's $9.05 million (Forbes). 
Several cyber experts have weighed in on the conversation to advise companies to do better in the upcoming year. High on their list of recommendations was for companies to take more "protective measures." (Forbes)


These numbers are enough to give any business leader pause, but especially small businesses. That number encompasses all of the costs that go into recovering from a cyberattack, including:


The possible ransom cost, if data is held hostage by a cybercriminal.

The legal fees that your team might have to pay.

The marketing costs to recover your reputation.

The costs of upgrading your security.

The cost of losing customers.
All of these fees might have been avoided, however, if your team had thought to set up a cybersecurity incident response plan. 

What Your Cybersecurity Incident Response Plan Should Cover
Every cybersecurity incident response plan will be a little different, since it will be written with your team's needs in mind. However, most plans will follow a similar template. 


1. The Preparation Phase
In the preparation phase of your plan, you'll want to outline the reason why you're creating the plan, your goals for improving your security and recovery, and a strategy for fixing current flaws in your system. 


2. The Understanding Phase
After you're done with the preparation phase, you'll want to move on to the understanding phase. This is the section your team will most benefit from right away. Here, you'll want to detail threats that currently exist (especially the ones that will most impact your team) and educate your team on how to spot them. You should also consider adding a scale that clearly indicates the "risk" levels, helping your team identify what problems should be brought to your IT team's immediate attention.


3. The Observation Phase 
Next you'll have your observation phase, which is where you'll detail how your IT team will monitor and manage any potential threats. You can outline how often systems should be scanned and determine how incidents should be reported. The last part is especially important for any teams that are in Quebec, who under Law 25 are required to have proper security measures and incident reporting in place if a business is handling clients' personal information. 
4. The Recovery Phase 
Finally, you'll want to include the recovery phase in your plan. While the goal of the response plan is to keep breaches from happening, it's still always better to be over prepared than caught off guard. The recovery phase could be one of the most important parts of your response plan, as it can include your data disaster recovery plan, which will help your team stay calm under pressure. The recovery phase section of your plan should also have the information your IT team will need to eradicate any threats and the contact information for your team leaders, who will need to be notified about the incident. 
Want Advice on Creating a Cybersecurity Incident Response Plan?

Our team at XMA has been vocal about SMEs cybersecurity for quite some time now. We take the safety of our clients seriously, and want to help teams of all sizes implement stronger cybersecurity measures. It can be overwhelming for SMEs to know where to start when it comes to creating a response plan, and they might accidentally leave out a critical piece of information. 


That's where our team comes in. We can help you create a strong cybersecurity incident response plan that can keep your business safe. Don't wait until it's too late. 


Contact us today to learn more about cybersecurity and incident response plans.