Subscribe to our blog to stay up-to-date.
---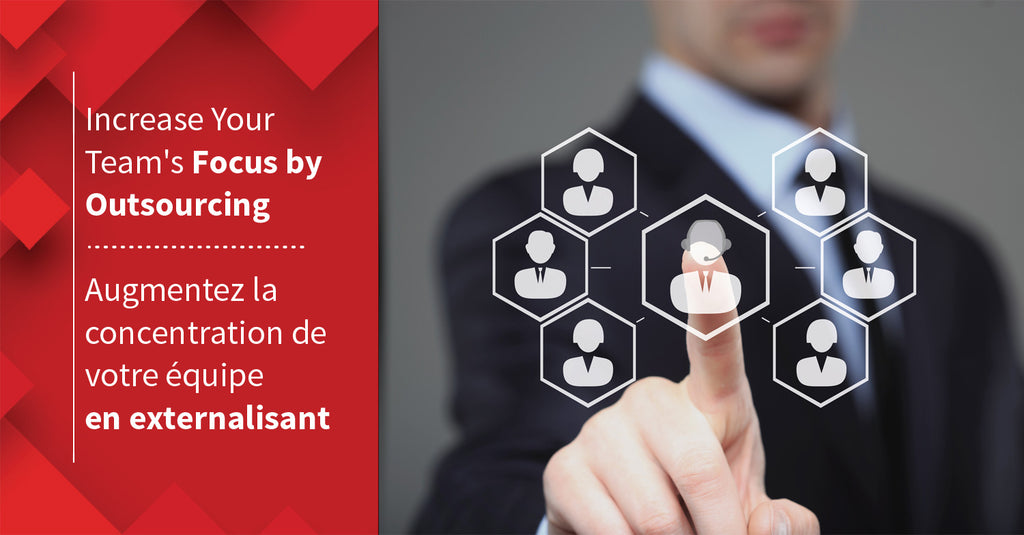 The Benefits of Outsourcing for Your Sales Force
Mon Feb 13, 2023 | jean-francois roberge
---
Business process outsourcing is when businesses share part of their workload with subcontractors and third-party vendors. Outsourcing is an increasingly common practice, and executives have found that outsourcing certain tasks are profitable for them on several fronts. In this article, XMA would like to highlight the benefits that come from outsourcing. The objective is to demonstrate how it is possible (and advantageous!) to introduce process outsourcing within your organization. 


Business process outsourcing can be a great way to free up your team's time and allow for more flexibility in the workplace. One area of business that we find particularly interesting to outsource certain tasks is B2B prospecting. Generating new leads is one of the most important tasks to ensure organizational growth. Unfortunately, a company cannot survive on its existing customer base alone. That's why it's essential to continuously generate new leads––to counter the possible losses to your existing customer base. That being said, this will mean your representatives will have to allocate a good portion of their time to prospecting, whether that's through cold-calling or door-to-door. 

Now let's look at how outsourcing prospecting can benefit all parties in your organization.  


1. Lack of Time

Time is a scarce resource, and prospecting (as important as it is) is a laborious task. Your representatives have to attend to their existing customers, while also trying to generate a new database. Frustrations can arise when your customers have a particularly high volume of inquiries, which leaves less time for prospecting. On the one hand, responding to your current clients will earn you better customer service points. But on the other hand, neglecting prospecting will have an impact on your business over the next couple months when your pipeline becomes more and more thin. 
Outsourcing B2B prospecting can allow your reps to focus on their customers, while a team of experts will continue to bring new leads in your pipeline. Attractive, isn't it?


2. Underperforming Activities

Prospecting is an important long-term task. If it is not done on a recurring basis, you will see the impact on your pipeline in the following months. That said, it is often easier for your reps to stay focused in the moment and therefore do high-yield activities right now. Preparing financial proposals, client presentations, and contracts may seem like a priority to meet your monthly goals, but if prospecting is put continually put on hold to meet immediate expectations it will inevitably be felt in subsequent months. 
Outsourcing B2B prospects can allow your representatives to focus on their current tasks and achieve their short-term goals. 


3. Retention and Loyalty of Your Sales Force 

Right now, team leaders are scrambling to fill the gaps in their workplace. They must juggle keeping their current employees happy while trying to recruit more. All the while, they must give more tasks to already overworked employees. On a day-to-day basis, these seemingly small tasks will pile up until they become insurmountable. No matter how hard your team works, it seems you can never get ahead.

Right now, we are in the midst of a huge economic transformation called the Great Resignation. It's one of the most striking things to happen to employers in a long time, leaving them with fewer team members than ideal. This is largely because employees are looking for meaning in work (McKinsey & Company, 2020).

For your representatives, doing account management as well as prospecting can become increasingly burdensome, creating additional stress on the job. If they're perpetually stressed, it's only natural for the employee to want to explore other career paths.

Outsourcing B2B prospecting can allow your sales representatives to lighten their load and reduce the extra weekly stress at work. It is a great way to stop the cycle of resignation since a happy employee is a loyal employee!


4. Ensuring Results

As mentioned before, outsourcing B2B prospecting allows you to generate new leads in a satisfactory manner. Your sales reps can focus on their daily activities while a team of experts takes care of the prospecting. It is a team effort, where everyone is focused on a specific task to achieve the pre-established goals.


Who Can Benefit from B2B Sales Prospecting Service?

B2B sales prospecting can help teams of all size and from every organization. For small teams, it can be a great way to offload some of the smaller tasks to focus on big, business changing projects. You'll have the chance to pursue creative and engaging projects without worrying about stretching yourselves too thin.


For larger organizations, outsourcing business operations can give you an edge over your competitors. Your team will have trusted experts there to back them up every step of the way. Important assignments can be focused on for longer, ultimately boosting productivity for your team. This will have a positive impact on your business, as clients will learn that they can trust you to always get the job done on time.


There's no team that B2B sales prospecting can't help. Each business, big and small alike, share common concerns. They want what's best for their employees and for their clients. Keeping your team from experiencing stress while also showing clients that you can handle tight deadlines is nearly impossible these days. But by joining forces with another team, you can achieve greater success in both of these areas!


Want to learn more about process outsourcing and how it can benefit your team? Contact us today!