Subscribe to our blog to stay up-to-date.
---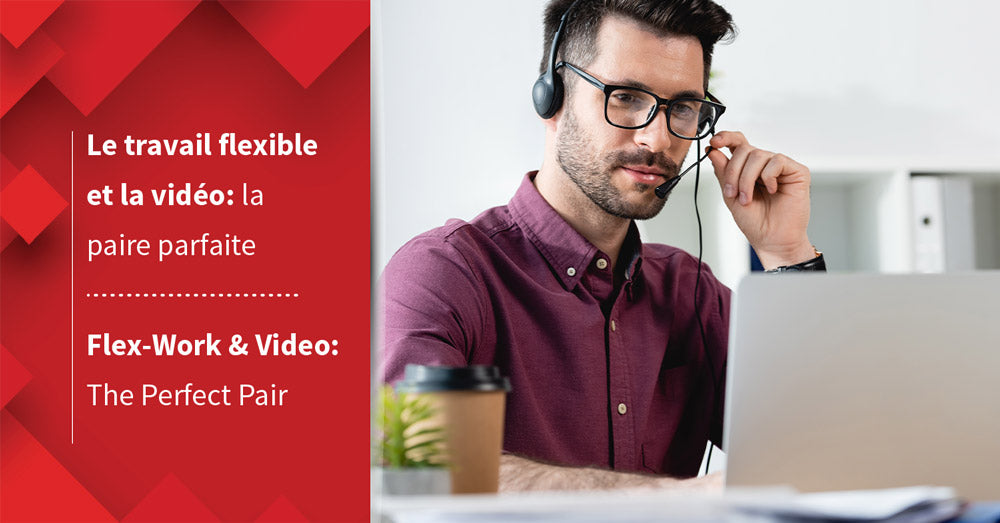 The Top 4 Benefits of Video Collaboration
Tue Oct 27, 2020 | Deborah Hamon
---
Amidst the rise of Covid-19, flex-work (and having a more flexible working environment in general) has become significantly more important—and for good reason. With a more flexible schedule, employees tend to save money on commuting and parking, lunch, clothing, etc., and employers are able to save on overhead costs, while also gaining access to a greater talent pool. A win-win, really.
If you have employees working remotely though, it is important to also ensure that it is easy for them to stay connected—not only with their team members but also with clients and partners. Building relationships and collaborating is a business fundamental that is here to stay. 
So, how can your organization increase efficiency and productivity while keeping your team connected? 
Video collaboration. We're talking about high-quality, scalable technology that allows you to easily and efficiently foster a collaborative culture. 
Here are the top 4 benefits of using video to collaborate with remote team members. 


1. Employee Engagement 
Having an engaged team is important—maybe even more so right now (due to COVID-19), considering many of them are isolated and more than likely, feeling disconnected. Engagement leads to loyalty and a greater investment, or buy-in towards the organization. 
Video conferencing and collaboration helps to keep employees engaged and connected to each other, and also to the company. Team video calls can empower your employees and help fuel them with a bit of energy and excitement. It also allows them to feel a greater sense of "normalcy", during this not-so-normal time.


2. Increased Efficiency 
Organizations are constantly on the hunt for new ways to reduce wasted time and company resources. Video collaboration allows you to meet with employees, partners, and clients from anywhere (eliminating any in-office disruptions). With these tools, you are also able to record meetings, which can be used for sharing between team members or for review afterward. An added benefit here is that these videos can be later used for training and/or legal purposes as well. 


3. More Personal Interactions with Customers
Video conferencing can make a big difference when it comes to your customers. For them, being able to communicate with you via video, is a real game changer. They can see your facial expressions, you can brainstorm and laugh together. You get to know each other on a more personal level—building a stronger connection, which will inevitably, increase trust and confidence in your employees and your company. Imagine how much more personal a sales call would be with a prospective client if they were able to see the salesperson. There's also a "request-a-meeting" feature that can be easily added to digital presentations or online forms. 
Video conferencing can turn a 1-hour conversation into a 30-minute conversation, simply because it eliminates the opportunity for miscommunication. It's a great tool for problem solving, too! 


4. You Can Source Talent… From Anywhere!
On top of the fact that with video collaboration, employers can create a more flexible working environment (which can help to increase employee retention), it can also be used to create a more efficient hiring process. Your HR team can use video conferencing to recruit and hire, allowing you to choose from a larger talent pool… (think global!). When it comes to screening top candidates, this can also become a smoother and less time consuming process for your organization's hiring manager—they still have the opportunity to have face-to-face time with prospective employees, but with less hassle on their end. 
Communication is key for every organization, both internally and externally. With video collaboration solutions, your team can become more productive and more engaged. Email, audio conference calls and in-person meetings are just not as effective.

Contact us today if you're interested in finding out more about video conferencing and all it has to offer. We want to help!